Pets often become another member of the family and like with children, you want to ensure that they receive the best medical care available. When selecting a veterinary clinic that will care for your dog or car from puppy or kitten to old age, there are several factors you may consider — the expertise of the staff, advanced equipment, and overall feel of the clinic. An office that is cold, cramped, and unwelcoming will not often be the one that you will take your pets to for care.
Dr. Ashley Turma, owner of Pine Creek Animal Hospital and veterinarian, understands the importance of making her clients — and their four-legged friends — feel comfortable.
Dr. Tuma didn't always know she wanted to be a vet and initially pursued a career in architecture design. However, after a fateful meeting with a college advisor her sophomore year, she switched to a path that led her to vet school. After scoring 100% on her first anatomy exam, she knew then that she was meant to be there and hasn't looked back since. Dr. Tuma obtained her bachelor's degree in Zoology from University of Maryland, College Park, attended Ross University on the island of St. Kitts for veterinary school, and spent her senior year at the University of Illinois completing her DVM degree.
She knew early on that she eventually wanted to own her own practice. After being an associate for 10 years, she found Pine Creek Animal Hospital (formerly Arglen Veterinary Hospital) located in Christiana PA and felt it was the right fit. She had a lot of ideas for how to improve the practices and constantly strives to make improvements.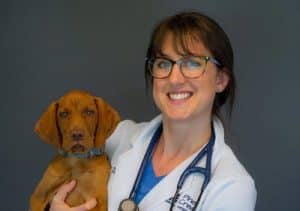 It's been 2 years since she purchased her practice and it has grown very quickly thanks to the help of her talented staff! With the ever-growing success, she knew it was time to make changes to improve the experience of her clients and staff. Her goal was to remain in the building but to make it more efficient by converting office space to exam rooms.
Dr. Tuma first heard about us at DESCCO through a serendipitous email and after receiving a recommendation for us and our ability to work with her timeline, she hired us for the job. The project is expected to finish in the fall 2020.
While she wanted to start the project right away, her furry patients still needed her care. We can work with you! When you hire DESCCO for your design and construction project, you can keep your business open while working toward your renovation dreams. Dr. Tuma said she has been pleasantly surprised with the professionalism, open communication, and ability to work in the timeframe without impacting her schedule.
If Dr Tuma could give advice to another practice owner considering a renovation or new construction, it would be to keep an open mind. You can deviate from the original plan or timeline to make it work for you! Dr. Tuma and her team are upgrading equipment, the new exam rooms will be twice as big as the old ones, which will allow proper social distancing during COVID-19. The waiting room also received a complete flooring redo, new paint and furniture and she added a comfort room that is homey for euthanasias.
Dr. Tuma said she takes a serious role in investing in her business and is excited to see what this does for Pine Creek's future and we are equally as excited to finish her project that will allow her to help even more animals!
"The greatest joy in our profession is bringing our clients' visions to life and revealing the final projects to them," Nicholas D Stoltzfus, President of DESCCO Design & Construction said. "Watching our clients' businesses continue to thrive because of the construction and renovations and add to our communities makes our work so worth it."
At DESCCO Design & Construction, we offer a variety of veterinary hospital design and office construction services. Whether you have a vision of how your new construction build or renovation should look, or you need expert guidance on your project, give us a call. We understand the unique needs of veterinarian offices and just as you are committed to providing quality care to your patients, our customers are our top priority as well.
We take the stress off your shoulders from planning to project completion so you can focus on what's important to you — the animals.