Medical Office
Construction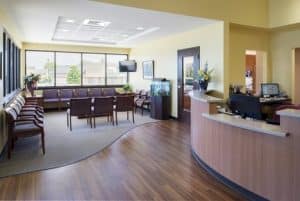 At DESCCO Design and Construction, we offer a wide variety of medical office building and healthcare construction services for all types of clinical treatment and wellness centers.
As one of the leading medical building contractors in the Southeastern Pennsylvania area, our company is well adapted to the construction of top-of-the-line, modern healthcare facilities that will serve your staff, mission, and purpose as efficiently as possible.
As a medical professional, clinical researcher, or healthcare practitioner, you understand the value of providing top-quality care and comfortable accommodations for your patients and participants.
Even so, an outdated or overly-clinical medical office can make it difficult to adapt these accommodations, and may even prevent you from keeping up with the fast-paced and ever-changing world of the healthcare community.
If you find yourself struggling with finite space, outdated technology, and reduced services as a result of your medical office building's limitations, DESCCO is here to help. Invest in the research, planning, and construction of an all-new, state-of-the-art healthcare building today.
Planning Your Medical Office Building Construction Project
At DESCCO, we pride ourselves on offering advanced construction skills that very few medical office construction companies can match. Our incredible services include specialty medical office renovation and construction, as well as other specialty construction projects including veterinary offices, dental offices, and eye care centers.
Our medical office contractor team possess years of experience and a wealth of knowledge about the many unique environmental, spatial, technological, and reception needs that are required in a modern healthcare center. Together with you and your staff, we will work to ensure that every one of your needs are met and every one of your concerns are addressed.
At DESCCO Design and Construction, we are prepared to not only meet, but exceed your expectations.
Working with Knowledgeable Designers for Clinical Settings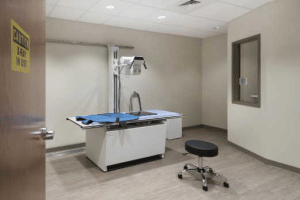 Whether you are completely open to new possibilities, or you have a concrete vision of how you'd like your medical office to look, DESCCO is here for you.
Our creative and experienced team of clinical designers will assist you with your healthcare building project from the inception stage all the way to its implementation. In addition, our team prioritizes your preferences and styles to create you the ideal medical center you've always dreamed of owning.
DESCCO Design and Construction will work alongside you and your staff to come up with a detailed plan that not only promotes efficient workflow in your office, but also minimizes disruptions to your practice if your project continues during operational hours.
Overall, our number one goal is to deliver effective medical office construction strategies efficiently and affordably while simultaneously promoting modernity, patient comfort, and high-quality care.
Keeping Your Practice Open During Construction
If the idea of having to close your practice down during construction is holding back your desire to go forward with a full remodeling project, don't worry!
For any medical practitioner, the health, safety, and wellness of your patients is the biggest priority. At DESCCO, we offer the flexibility and dedication to work with the time and budget that you provide.
Your staff, patients, visitors, and participants shouldn't have to take a backseat to construction, and you can rest assured that our medical office contractor won't allow that to happen. We'll handle everything from planning to project completion so your practice can continue operating smoothly without distraction.
Don't hesitate to mention any special needs or accommodations you may require when it comes to your construction project, and be sure to mention any goals or ideas you have for furthering the success of your organization.
Turn to the Pros Who Understand the Unique Challenges of Medical Office Building Construction
As a medical building contractor with over 40 years of experience in the field, DESCCO is fully aware of the many unique challenges involving the planning, designing, and construction process of a cutting-edge healthcare center.
At our company, many of our team members are certified in several areas of clinical construction including those required by the American Society for Healthcare Engineering (ASHE), Accreditation Association for Ambulatory Health Care (AAAHC), American Association for Accreditation of Ambulatory Surgery Facilities (AAAASF), and many more organizations.
Our decades of experience allow us to better understand what owners, staff, and patients expect and require from their medical office construction, and we always communicate regularly to provide a safe and professional environment during builds.
For medical buildings, healthcare offices, and clinical centers, DESCCO offers full or partial construction or demolition, installation of exam rooms, offices, or waiting rooms, new drywall, partitions, installation of lighting fixtures, flooring, carpeting, ceilings, and so much more!
Whatever your needs, be it anything from large-scale remodeling to expanding or relocating your practice, DESCCO has the training, experience, and expertise to create the ultimate modern medical office building.
Contact us online or by phone at 610-426-1442 today to get started.
Thank you for contacting DESCCO Design and Construction, Inc. Please fill out the contact form below and a member of our team will be in touch with you as soon as possible to talk in further detail about your project.
When you begin the process of trying to find a nearby commercial construction company, the overwhelming flood of information that you face can leave you wondering what the next step would even look like, but it's simpler than you think. Reach out and contact DESCCO Design and Construction today to discuss your project near Lebanon, Montgomery, Northampton, Schuylkill, or York Counties in Pennsylvania, or Cecil and Hartford Counties in Maryland. Our expert team is ready to get to work and help guide you through the process.
Thank you for contacting DESCCO Design and Construction, Inc. Please fill out the contact form below and a member of our team will be in touch with you as soon as possible to talk in further detail about your project.