This is the number one question asked of us; What will it cost?
A preliminary estimate based on a cost per square foot for commercial construction projects can give you a high-level view of your potential project cost to evaluate your capability of proceeding before you spend money on conceptual planning and a more detailed budgetary price.
Every project is different and has many variables, as you might imagine. A construction project can be estimated based on square footage and historical experience with similar projects, also known as budgetary pricing. DESCCO provides services for conceptual planning to determine square footage for your project and associated detailed budgetary pricing at a reasonable cost.
A final contract price is based on sealed drawings approved for permitting after the design development process is completed.
We have provided a cost per square foot guide for a Commercial Interior Build-Out and for Commercial New Construction to give you a general range or preliminary estimate to get you started.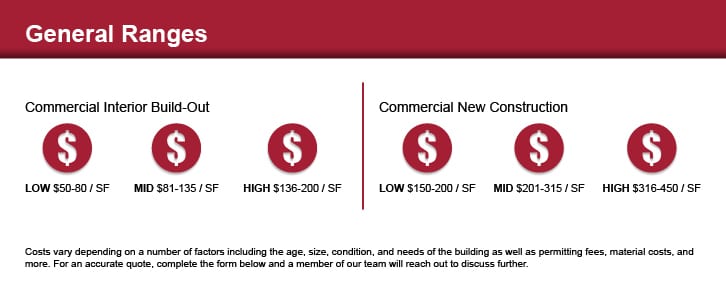 If you are ready to talk about your project, please contact DESCCO Design & Construction today! One of our team members will be in touch with you.
What are Hard Costs and Soft Costs in Commercial Construction?
Before starting a renovation, addition, or new construction project, you may want to consider how Hard Costs and Soft Costs will impact your project:
Hard Costs in Commercial Construction
Hard costs, which may also be called "tangible costs" and include all costs involved with physical building construction. Hard costs include:
Construction labor and materials: Wages for workers physically doing work on the property, overhead and profit for the contractor, and purchase costs for all relevant materials, including concrete, wood, steel, insulation, glass windows, and more.
Landscaping costs: Typically includes costs for trees, grass, mulch, fertilizer, flowers, bushes, and any other landscaping elements.
Site improvements: Land acquisition, demolition costs, paving/walkways, gazebos, permanent/fixed benches/outdoor furniture, and other exterior improvements.
Utility installation: Electrical installation, plumbing, water/sewer hookup, etc.
Interior finishes: Wallpaper, paint, trim, flooring, etc.
HVAC: Full installation of heating, ventilation, and air conditioning systems.
Life safety systems: Fire alarm systems, sprinkler systems, fire escapes, and other related systems.
Contingencies: At the final estimation, these usually come out to around 5-10% of total costs (for new construction), or between 15-20% (for renovations).
Soft Costs in Commercial Construction
Soft costs are "intangible", and are typically associated with the planning, permitting, and financing of a construction project.
Civil engineering fees: Land development plans and storm water management requirements.
Architectural and engineering fees: Conceptual plans, design development, final plans for permitting and construction, color renderings, 3-D modeling, structural plans, mechanical, electrical, and plumbing plans, fire alarm plans, and sprinkler plans, landscape designer, interior decorator. Fire alarm systems, sprinkler systems, fire escapes, and other related systems.
Property and construction insurance
Movable furniture and building equipment
Legal fees
Permits and taxes
Code review
Inspection fees
Site Analysis: Surveying fees and geotechnical reports
Accounting: Administrative expenses
Financing fees: Including application fees, loan origination fees, interest payments, and appraisals
Fundraising
Décor including window treatments
Incidental interior and exterior signage
When preparing a project budget there are numerous costs to consider including hard and soft costs. Once you determine a reasonable budget including hard costs, (directly related to the building of a structure) and soft costs, (indirectly related to the building of a structure) you are ready to begin to plan your project.
If you have developed a budget for your project, contact DESCCO Design & Construction today! One of our team members will be in touch with you.
Thank you for contacting DESCCO Design and Construction, Inc. Please fill out the contact form below and a member of our team will be in touch with you as soon as possible to talk in further detail about your project.