Ophthalmologist
& Eye Doctor Office
Construction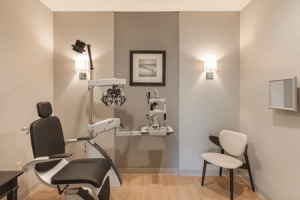 At DESCCO Design and Construction in Southeastern Pennsylvania, we are uniquely qualified to assist you with your ophthalmologist and eye doctor office renovation, remodel, and construction needs. Our professional team of experienced builders takes the time to truly consider your ophthalmologist office design, construction, and renovation needs, and we strive to deliver the best experience possible each and every time.
DESCCO's Unique Ophthalmologist Office Construction Process
Our detailed and comprehensive ophthalmologist office remodel and eye doctor office renovation process begins by working closely with you and your staff to get a fully-understood, well-rounded idea of your desired environment, equipment placement, and design concept.
At DESCCO, we strive to meet and exceed your expectations while working closely in line with your unique vision for your completed eye doctor office construction project. We will meet with you to determine the best way to utilize your budget while creating the ideal workspace for your ophthalmologist office remodel.
Whether you're looking to add more space to your building, update the look and feel of your practice, or maximize the efficiency of your ophthalmologist office, DESCCO Design and Construction is here to ensure your eye doctor office renovation or construction project meets every modern standard of safety, efficiency, and quality.
Delivering on All Your Eye Doctor Optics and Specs
An eye care business like optometry or ophthalmology encompasses highly-specialized knowledge and a unique set of services not typically found in a general medical office.
From feasibility studies to the meticulous planning of the ideal patient experience, the diverse and experienced team at DESCCO can guide you through multiple distinctive challenges, providing fact-based solutions that produce measurable results for your eye doctor office renovation project.
DESCCO is proud to offer a number of expert contractors who are thoroughly adept at dealing with the many individual challenges found across a wide array of unique health care industries including dental offices, veterinary hospitals, surgical centers, rehab facilities, testing laboratories, and assisted living homes. Ophthalmologist office construction projects are just one refined facet of our area of expertise.
At DESCCO, We're Proud to Be Your Eye Care Center Construction Experts
DESCCO Design and construction is staffed by healthcare construction experts that truly understand the delicate nature of your practice. In fact, we are so nuanced in this field, that we proudly offer the ability to complete your project without much interruption to your daily operations.
Executing work to this expert-level degree is heavily contingent on DESCCO's innate ability to communicate; not only with you, but with every tradesperson involved in the process. We use the highest-quality materials, equipment, and standards when it comes to eye doctor office construction, allowing you to operate your ophthalmologist office with ease.
When it comes to eye care office design, construction, renovation, and remodeling, we are the premier experts in the Eastern Pennsylvania and Berks County, PA areas. Let DESCCO help you design and construct the eye doctor or ophthalmologist center of your dreams today!
Thank you for contacting DESCCO Design and Construction, Inc. Please fill out the contact form below and a member of our team will be in touch with you as soon as possible to talk in further detail about your project.