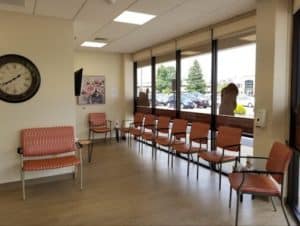 The quality of your urgent care facilities is of the utmost importance to you, your staff and to your patients. With so much riding on it, a construction or remodeling project can seem incredibly daunting. Partnering with the right construction professionals is the thing that will make the difference in not only your experience of the process, but in the end result and your satisfaction. DESCCO has the experience and expertise to help you create an urgent care facility that is functional, safe, and exactly what you need.
With over 40 years of experience, DESCCO Design and Construction is the name in healthcare construction that you can put your trust in when you need to build, renovate, or remodel an urgent care facility near Reading, PA or any of our Eastern Pennsylvania service areas. DESCCO Design & Construction has proudly served the Eastern Pennsylvania Region since 1976.
Designing the Ideal Urgent Care Facility
All aspects of your facility need to be considered during the design process, and no one knows your space and its needs better than you. At DESCCO we know medical office construction inside and out and we will partner with you throughout the process to work out your ideal design.
Safe Care Express Urgent Care in Wyomissing, PA, a previous DESCCO project, was a tenant fit-out in a gutted space that had previously been rented as a retail store. After evaluating many design layouts to make the most use of the 2,000 square feet of space, the final clinic ended up including a reception area, waiting room, nurse's station, a triage room, a lab, 4 exam rooms, staff areas such as an office and break room, and more. All methods for design and construction were carefully considered, and Safe Care Express Urgent Care is now treating patients efficiently in their beautiful facility.
Safety Parameters Taken into Account
In urgent care, not only does the staff need to be able to function quickly and efficiently and your patients need to feel comfortable, but there are certain parameters that must be met for safety reasons. For instance, Safe Care Express Urgent Care required some spaces specific to this type of medical practice. This particular clinic is equipped with an x-ray facility, which allows them to treat their patients far more efficiently on site instead of sending them out for x-rays. Creating the x-ray room required all walls, doors, and even observation glass to be built with sheets of lead inside, according to the safety parameters based on the x-ray workload expected. The door to the exposure room was also installed with a lockout configuration to prevent entry while the machine is in use. At DESCCO our team of experienced professionals is ready to help you address needs such as this and more. We will guide you through the project from design through to the end of construction.
Stay Functional During Construction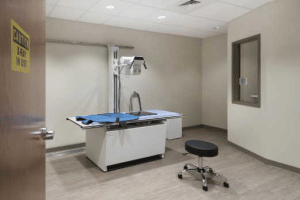 If your project is an urgent care remodel or office renovation, you may be struggling to plan how to cope with being out of commission while the project is taking place. How will you and your staff be able to work, if at all, and what will the patients who need your attention do? With DESCCO as your construction partner, you can set this worry aside. We will plan with you the best ways to work around your daily activities so that you can remain open and functional during your urgent care renovation or remodeling project.
Ready to Begin? Let DESCCO Help You!
Whether your project is an urgent care construction, remodeling, or renovation, with DESCCO as your partner you'll have a facility that meets all of your needs. Starting from scratch, expanding an office you've outgrown, adding a new building, or just giving the space a face lift, our team of experts can do it all.
Contact us today to begin planning your project. We will work with your schedule, budget, and desires to create an urgent care office that will serve your community well for years to come.
Thank you for contacting DESCCO Design and Construction, Inc. Please fill out the contact form below and a member of our team will be in touch with you as soon as possible to talk in further detail about your project.