DESCCO has been a leading general contractor in the Eastern Pennsylvania area since 1976. We are a top choice of commercial business owners and design teams for our high quality construction, refurbishing, and renovation services. Our service areas include Berks County, Chester County, Lehigh County, and Monroe County, Pennsylvania as well as Cecil and Hartford Counties in Maryland, and more.
Our team of experienced construction professionals will collaborate with you from the start. In the early stages of a design-build, we offer suggestions and expertise on the planning and design of the project.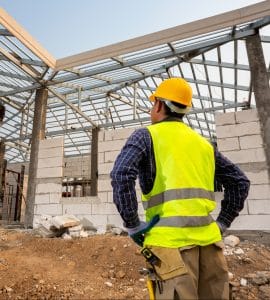 We will endeavor to seamlessly coordinate the project from start to finish, and as contractors we pride ourselves on our transparency and communication when it comes to our delivery methods.
Reliable & Experienced General Construction Company
Whether we work with you directly on a design-build project or with an architect or engineer, our staff will bring years of practical design experience to help on your construction or renovation project. Whether you're starting a location from scratch, creating an addition, or refurbishing an existing space, our design and construction teams not only know what looks good, but what work best as well. Our detail-oriented specialists will help to ensure that every piece of your project fits seamlessly into the big picture.
For the many commercial construction services we offer, we make sure to work with high quality materials and products. All of our projects, from office buildings to restaurants to medical facilities, must meet our high standards both in terms of practices and materials. DESCCO's expert staff makes use of the latest available construction knowledge and technologies to ensure that project are completed in a timely manner and with consideration to project costs.
In the time we've been in business, we've been proud to work on over 4,000 different design and construction projects. We serve many different industries, and our projects range from medical facilities, to dentist's offices, to commercial projects, to restaurant design and construction. We build veterinary offices, warehouses, and we even serve specialty divisions, such as churches, cleanrooms, and wastewater treatment plants. Our customers report high levels of satisfaction with our expert design team, our smooth construction process, and the high quality of our work.
Charitable Giving Referral Program
You send us a referral; we donate in your name. It is that simple with our Charitable Giving Referral Program! The greatest compliment we can ever receive is when our customers refer their friends, family, or colleagues to us. We have always known this and have always sought to earn your referrals.
DESCCO is committed to the betterment of the communities that we work and live in. We like to demonstrate this through our Charitable Giving Referral Program. Our goal was to find a way to give back to our community in a way that matters. So, for every person you refer to DESCCO that becomes a customer, we will donate to a charity of your choice from the list we provide. This donation will be made in your name. There is no limit to the number of referrals you send us but for a charitable donation to be made in your name, your referral must become a customer of ours.
How to Earn a Donation to a Charitable Organization
We make it easy. We ask every person that calls how they heard about us. If they mention your customer name, once they become a customer, we will contact you to say thank you and find out which organization you would like us to donate to on your behalf. Be sure to like us on Facebook by going to facebook.com/DESCCODesign/ and clicking on the "like" button to stay updated on the organizations we support through this program.
If you are interested in learning any more about any of the organizations that we are supporting through our new referral program, just visit any of their links below:
Annual Dwight Stoltzfus Memorial Trade Scholarship Sporting Clay Classic
All proceeds benefit the Dwight E. Stoltzfus Memorial Trade Scholarship
Awarded annually to students in need who are from the Berks County area and studying a "trades" curriculum at the Pennsylvania College of Technology. DESCCO's founder, Dwight Stoltzfus, believed that education was essential to keeping a high standard of quality and excellence in the building trades. It was for this reason, the Scholarship in Dwight's name was founded. Now, students with a desire to work with their hands and learn a trade have the opportunity for a scholarship toward their education. The endowed scholarship will help Dwight's standard of high quality and excellence in the trades last for generations to come.
Save the Date for This Year's Event!
Friday, September 27, 2024
At Keystone Clays LLC
To register for the clay shooting event or learn more about our sponsorship opportunities, click below or contact DesccoConstruction@gmail.com or 610-944-0404