Office Renovation Contractor
If an experienced office renovation contractor in Reading, Berks County, PA is what you're looking for to help you bring an old office up to the latest code, then you can count on DESCCO.
Our professional office renovation team has the skills and the experience to refurbish your office efficiently and quickly so you can get back to running your business.
DESCCO has been providing quality office construction and renovations for a variety of industries for many years.
What is office renovation?
Office renovation usually involves the modifications of an existing office or building's interior, while keeping the shell unchanged, to improve its esthetic, or transform a space to add elements that might be needed to operate as required, or to bring the building or office up to code.
Our expert team will provide your company with the highest standards when it comes to your office refurbishment or renovation.
Whether it be adding more space for new employees, updating the look and feel of your outdated office, or maximizing your storage space, we work with you through design and construction so that every aspect of your renovation project meets both our standards and yours.
An office refurbishment or renovation project can sometime be a monumental task for businesses to undertake that will require an experienced office renovation company such as DESCCO.
Trust the experts at DESCCO Design and Construction with your next office refurbishment, renovation or construction project.
Have Your Office Renovated While Running Your Business
Our experienced office refurbishment and renovation team understands that although you are updating and renovating your office space, you are also running a business and your work does not stop.
We take that into consideration with every renovation we design, plan, and construct.
If your office space just needs a fresh look or if you are renovating to reconfigure the existing space, our experienced renovation team has the capability to run the project from beginning to end with minimal disruption to your day to day operations.
Thinking of building a new medical office in the area of Reading, Berks County, PA? We can help! We will take the time to answer any question you may have and provide you with quality solutions to any situation that may occur.
Communicating is a key component to the construction process so that your office renovation project does not hinder your business operations.
At DESCCO, we use the highest quality materials to ensure that the office renovation that you mapped out and planned for comes to fruition. We obtain the same standards in regard to process and safety for the renovations so that your staff and your customers are not interrupted during this process.
Planning Your Renovation Project
For a successful renovation project, planning ahead is paramount. DESCCO can help you define specific plans and goals that you are expecting at the completion of the project.
Whether you are increasing your office space functionality, or creating a new layout, our experienced office renovation team will come up with a renovation checklist customized specifically to your business or office needs.
Additions and New Office Buildings By DESCCO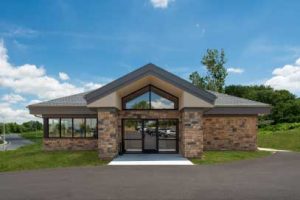 DESCCO Design & Construction understands that a well-designed and well-built building and office space is an important part of your company's success.
Whether you need a brand-new building constructed or would like an addition built onto your existing structure, DESCCO has the experience, knowledge, capacity, and talented staff to complete your project on schedule and on budget.
DESCCO's Knowledge of New Buildings & Additions
We work with you to understand your business, your needs, and the process in which you work.
We want the construction of a new building or addition to be as stress-free as possible so that the end results will be a space that provides a fast return on your investment.
Not only do we design and construct spaces with your needs and goals in mind, but we are also focused on designing a space that provides a positive experience for your employees and your customers.
We consider all aspects when it comes to the construction of your new building or an addition to your current office space, from interior layout for optimized space to lighting that will provide ideal comfort and productivity.
Ready to start your office renovation project now?