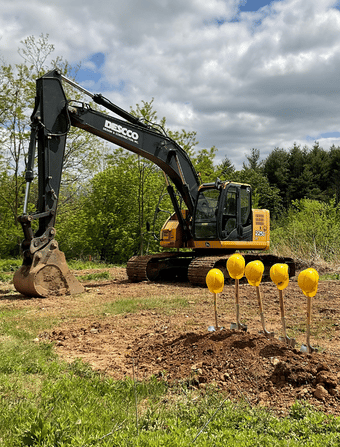 General Contractor Serving Reading, PA & Beyond
If you're looking for a high-quality general contractor in the Greater Reading or Berks County, Pennsylvania area, DESCCO Design & Construction is for you! Our company employs a reliable team of experienced general contractors, design-build architects, and builders that can deliver exceptional building design and construction expertise in many affordable and versatile ways.
Located in Fleetwood, PA, we pride ourselves on being the Reading area's most trusted and experienced design and construction company. We always go above and beyond to prove to you that you made the right choice. Partnering with DESCCO will ensure you accomplish your business goal and maximize your ROI. To request an estimate or ask about our customized contracting services, contact us today or call us at 610-426-1475!
At DESCCO, we believe in building a world that positively impacts the lives we touch
As with any construction project, you're bound to encounter challenges and unforeseen circumstances along the way. With the experienced general contractors at DESCCO, you can rest assured that your project will be built on-time and on-budget regardless of any surprises. We're more than capable of handling any new construction or renovation project from beginning to end thanks to our exceptional planning, design, and services.
At DESCCO, we take pride in our quality, values, and history. Those who have worked with us in the past experienced our outstanding service first-hand and saw our team as dependable, experienced, safe, caring, and communicative.
EXPERIENCED TEAM OF GENERAL CONTRACTORS
For more than 40 years, DESCCO Design & Construction has been the premiere choice for top business owners in the Greater Reading Area. During our tenure, we've built more than 4,000 projects. Our team of loyal, dedicated, and experienced general contractors, staff, and craftspeople have been going the extra mile for our customers and clients for decades. Through this experience, we offer a deep and diverse reservoir of knowledge across multiple areas of specialization.