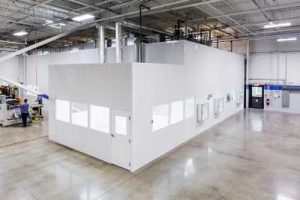 Looking for a clean room construction contractor in Reading, Berks County, PA that can complete your clean room construction project on time and on budget?
DESCCO Design and Construction of Fleetwood, PA is a clean room construction contractor offering a variety of services for all of your clean room needs.
With our experienced, certified and dedicated staff, the designing, planning, and construction of your clean room can and will be met in an efficient and timely manner.
From the industries we serve to the products we construct, DESCCO has the capability to handle all of your industrial clean rooms construction services needs.
The DESCCO Clean Room Construction Approach
Our clean room construction services involve the use of the highest quality materials, and a knowledgeable and an experienced team. We understand every kind of clean room and we aim to exceed your expectations every step of the way through the design and construction process.'
When designing and constructing a clean room, DESCCO Design & Construction has the experience, the quality team, and the understanding of the necessary requirements to get the project completed on time and on budget.
When working with clean room construction, DESCCO brings expertise, experience and quality to its clean room construction projects.
Want to get the best value and expertise for your clean room construction project?…
Then contacting DESCCO is your next step.
DESCCO's Clean Room Construction Services Include:
We're The #1 Clean Room Construction Company in Reading, Berks County, PA
DESCCO Design and construction is recognized as the #1 choice company and a leader in clean room construction in Reading, Berks County, PA with years of experience in the cleanroom construction business.
With a solid track record of completing many clean rooms construction projects on time, and on budget, plus experienced and skilled cleanroom construction professionals, choosing DESCCO Design and Construction for all your cleanroom needs is the right and sound decision you could ever make.
For more information on DESCCO's clean room construction, contact us, or call us at 610-944-0404 to speak to one of our professional clean room construction contractors.