Restaurant Construction & Renovation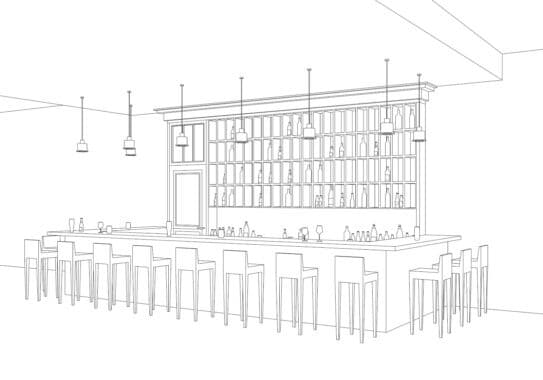 In the competitive restaurant industry, business owners must keep their buildings updated, efficient, and safe in order to keep attracting more diners and meet the demands of today's ever-changing industry. Restaurants have their own needs when it comes to construction and renovation projects that are unique to other industries, which is why qualified experience in restaurant building is a necessity.
As a restaurant owner, have you recently asked yourself, "where is there restaurant construction near me?" If you're in the Reading, PA and surrounding areas, DESCCO Design and Construction, Inc. is your answer! We have decades of experience in building and renovating restaurants that meet the needs of both your customers and staff.
Our team of experienced restaurant builders understand each aspect of restaurant building, renovation and construction from layout of kitchen and prep areas to restaurant requirements for ventilation and fire protection, to specialty equipment needs. Our focus on quality is reflected in the craftsmanship we put into each restaurant building project we are involved in.
DESCCO's Restaurant Design-Build and Construction Approach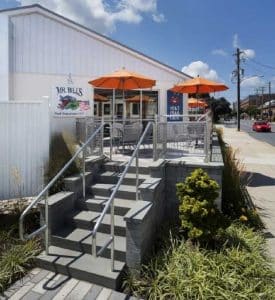 Whether you're just embarking on your restaurant journey and are in need of a new-build for your restaurant or you have years of experience and are looking to expand or renovate your current space to better accommodate your needs, working with DESCCO on your restaurant design and construction project allows you to have confidence, knowing your project is in the right hands.
As a restaurant owner, you're aware of everything your job title entails and we want that to be your focus, which is why we will oversee the restaurant design-build project from pre-construction to completion to ensure that your project is completed on time, on budget and to your satisfaction. Our team has the expertise for every phase of the process from site selection, to design, MEPs, and build-out, we can fully perform at every stage.
Do you have a vision for your restaurant or are you in need of inspiration and professional guidance? Our team of qualified restaurant designers, architects, engineers, builders, trade contractors, suppliers and other skilled restaurant experts will turn your dream restaurant into a reality and ensure the space is still practical, efficient, and aesthetically-pleasing.
As experienced professionals within this highly specialized market, we know what it takes and to translate your vision into a practical, workable and high quality completed restaurant construction project.
Restaurant Renovation & Refurbishment of Existing Spaces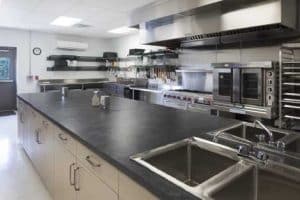 With a successful restaurant, you're sure to outgrow your space eventually and discover improvements that could use your space more efficiently, improve client experience, and boost staff productivity. Invest in your business with a restaurant renovation and see where it can take you.
Our restaurant projects range from renovation or refurbishment of existing spaces, to additions, and design and construction of a brand-new restaurant. No job is too big or too small for DESCCO.
Undergoing a large restaurant design and construction project can be a big decision for many, especially when restaurant owners assume they will have to close their business down temporarily until the completion of the project. At DESCCO, we work with our clients and when we can, we will complete renovation projects while the restaurant is in operation, eliminating the expense of a shut down.
Choose an Experienced Restaurant Construction Contractor
When you perform a search for "restaurant contractors near me," you may see an overwhelming return of many results. Where do you begin when choosing a restaurant construction company to hire on for your project? There are a few factors you should look for in a design and construction company – years of experience, industry-specific knowledge, proper certifications and training, and positive reviews.
At DESCCO Design and Construction, we have all of the factors listed above PLUS more! We have the knowledge, the skills and team of restaurant contractors with over 25 years of building, renovating and refurbishing restaurants.
If you are looking for an experienced restaurant renovation and construction contractor for all your restaurant needs in Berks County, PA, DESCCO is the company for any job. Call us today to learn more about our services and get started on your restaurant construction project.
Frequently Asked Questions About Building a Restaurant
What are the requirements to open a restaurant?
In order to open a restaurant, one must first obtain funding. Working with a design build construction company is important in order to ascertain the correct cost of construction or renovation of the space.
DESCCO can assist in estimating a cost in order for you to obtain funding for the project. You will also need to obtain permits for any type of construction to be done.
DESCCO will handle all permit applications to ensure the process goes as smoothly and quickly as possible, freeing up your time to plan other aspects of your restaurant.
How to Start a Small Restaurant?
Choosing the correct Location for a Small Restaurant is essential to its success. Keeping renovation costs down will also be important to ensuring you open up on the right foot.
DESCCO will help you assess different locations for feasibility of use of the space before planning and designing the space begins. Once you have selected the perfect location for your small restaurant, DESCCO Design and Construction of Fleetwood, PA will help design the space and complete all renovations in a timely manner to get your restaurant up and running as quickly as possible.
How Long Does it Take to Build a Restaurant?
All restaurant construction schedules depend on some basic factors, including the size, what equipment, fixtures and furnishings are needed, and the types of finishes to be used in the building. DESCCO will take all of these factors into consideration prior to providing the restaurant owner with a construction schedule.
In general, it can usually take up to 4 months or more to construct a restaurant. A fast-casual restaurant will likely take about 12 weeks to construct and a full-service, casual or even fine-dining restaurant will take 4 months or more to build.
This timeline will also be affected by factors including site specifications, weather conditions, the size of the structure, and the availability of subcontractors and those delivering materials. Any changes made as the project moves along will have an impact on the schedule as well.
It is extremely important to hire a general contractor who is familiar with all of these factors and who has a proven track record of success. DESCCO has constructed many restaurants on time and on budget and is ready to team with you on your restaurant construction project!
Do you have a question you want to ask us about restaurant design, construction and renovation? Contact us now and one of our experienced restaurant contractors will get back to you with the answer.