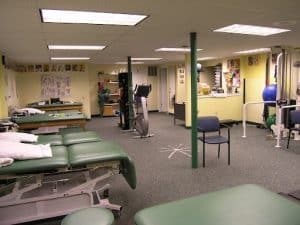 There's many different reasons that a person might need to find themselves in a rehabilitation center, from addiction to serious physical injury to cognitive problems. In all of these cases, your patients are going to be upset, uncomfortable, and going through one of the scariest times in their lives. The staff at a rehab facility are also under high levels of stress, spending their time helping patients through some of the most difficult days they will ever experience. Suffice it to say, rehab facilities are tense places, and a lot of importance is placed on what goes on within those walls. It only makes sense that having a facility that was designed and constructed by qualified professionals will help to make the experiences of your patients and staff better. If you're planning a rehab facility construction project in Berks County, Lancaster County, Schuylkill County or Lehigh County in Pennsylvania, or Harford County in Maryland, DESCCO is ready to help you!
You might be an expert on rehabilitating patients but find that planning and designing a space for your rehab center is a little bit outside of your wheelhouse. With DESCCO on your side, the stress and uncertainty of creating your new facility can be lessened right out of the gate. Our team boasts extensive knowledge and experience in healthcare construction across the board, and with our processes for medical office construction, testing lab construction, and rehab center construction, whether you're completely lost or you know exactly what you're looking for, we can help you to design a safe and welcoming place for your patients and a comfortable and efficient workspace for your staff. We design and build high quality, professional spaces throughout our service areas in Chester County, Dauphin County, York County, and Montgomery County, and we're ready to help you on your next project.
Transparency and Professionalism at Every Step
During a construction project, changing deadlines, uncertain prices, and poor communication only serve to make things more difficult than they need to be for everyone involved. At DESCCO we prioritize transparency and professionalism in all of our projects throughout our service areas in Bucks County, Carbon County, Lebanon County, and Monroe County. You'll be kept apprised and updated through every step of the design and construction process for your rehab facility, and we'll work within your budget and time frame so that you can have confidence in the final product from Day One. We'll have your center up and running quickly and efficiently, so you can start treating your patients as soon as possible.
DESCCO has been serving the Eastern Pennsylvania area in medical construction, remodeling, and renovation for over 45 years, and we know our way around the ins and outs of building rehabilitation centers. Since 1976 we have been navigating the unique challenges of this industry, and we can help you to create the perfect environment to get your patients back in good shape and help them take back their lives.
When you're planning a project as important as a rehab facility, you need only the best to be on your team. When you choose to work with DESCCO, you'll be setting yourself up for success. For your rehabilitation center construction, renovation, or remodeling project in Northampton County, Cecil County in Maryland, or any of our other service areas, contact DESCCO Design and Construction today and join our long list of satisfied clients.
Thank you for contacting DESCCO Design and Construction, Inc. Please fill out the contact form below and a member of our team will be in touch with you as soon as possible to talk in further detail about your project.