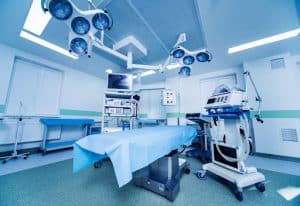 Planning out the details for building a proper surgical center is no easy task. But when you hire the professionals at DESCCO Design & Construction Inc., you'll discover there's no greater guarantee than our skills toward a job well done. For your surgical center construction, renovation, or remodeling needs, our experts will work collaboratively with you to ensure your project has quality execution at every step in the design and construction process. We have decades of surgical center construction expertise and are dedicated to helping you get the highest-quality planning and construction for your project's needs.
Surgical Center Design Expertise
There are many things to consider when designing a surgical center, including the sheer number of cases your center will be handling and how many offices you'll need for the medical professionals. For instance, the long-term use and reliability of a surgical center depends on the cost of providing the particular physical environment and staffing for that type of space, which requires effective construction planning to support the predicted amount of people and services.
Additionally, many modern medical centers, offices, and hospital facilities are now being designed in a way that reduces the Dr.'s office space and waiting area space to allow as much room as needed for quality clinical care. For example, being on the first floor could provide better accessibility for aging or physically disabled patients, which could also offer more room for treating those patients. As a result, this could make it easier for them to get through the front door in the first place.
Our Experienced Surgical Center Contractors
Our contractors for surgical center construction services are experienced and knowledgeable about every part of the construction and pre-planning process. As a design build contractor serving the Eastern PA area, DESCCO will provide you with the most effective and affordable solutions with competitive pricing and the highest-quality work. Feel free to schedule a consultation with us to learn how a design and construction project can support your surgical center needs. Patients will choose your center over others because they know their health is in the best surgical hands with an optimized facility.
Whether you are looking for new construction, an addition, renovations, or interior and exterior finishes for your surgical center, DESCCO will help you get the job done right.
Regulations and Communication
When planning out and building any type of medical or surgical facility, it's important to adhere to the strict codes and regulations so everyone stays safe on-site. At DESCCO, both our in-house professionals and experienced contractors are well-versed in all the official requirements and codes needed to successfully and safely build your surgical center.
Quality design and construction work that meets these standards is heavily dependent on our team's ability to effectively communicate goals and plans with every person involved in the process, including you. We use the highest-grade materials, equipment, and standards when it comes to surgical center construction, ensuring your surgery center office can keep working as intended.
For unmatched experience with planning and building surgical centers with specific medical needs, contact DESCCO Design & Construction today! We service the Mid Atlantic area including Lancaster and Fleetwood, PA. We're dedicated to helping you secure exactly the kind of facility you need.
Thank you for contacting DESCCO Design and Construction, Inc. Please fill out the contact form below and a member of our team will be in touch with you as soon as possible to talk in further detail about your project.