In an attempt to cut costs and time of a renovation project, many restaurant owners may consider turning to a DIY construction project, or settle on hiring a contractor with limited experience in the restaurant industry, but that could only create more of a hassle and additional cost in the long run.
There is a lot of competition in the restaurant industry and in order to keep your loyal customers returning and attract new diners to your business, it's important to keep your restaurant updated, spacious, safe, clean, efficient and appealing. But only an experienced and qualified restaurant construction company like DESCCO will be able to accomplish all of those standards and exceed expectations. There is more to a restaurant construction project than picking up a paintbrush and hammer. Undergoing a large project yourself can not only deliver unsatisfying results, but create a safety hazard as well.
Leave it to the Professionals
When you hire DESCCO for your job, we will oversee the entire restaurant design-build project, from pre-construction and acquiring permits to the renovation and final reveal. You can trust that your project is in good hands with DESCCO and focus on what matters to you – managing a restaurant and staff.
We work with you through the planning process, whether you know exactly what you want or are looking for expert opinions and inspiration, to handling all permit applications and the necessary approvals. Call us today to discuss your vision and learn how we can bring it to life while ensuring it is practical and efficient. Renovating a restaurant interior can allow additional space to welcome more customers, provide a more efficient work flow for your staff, and create a more aesthetically pleasing atmosphere.
Safety First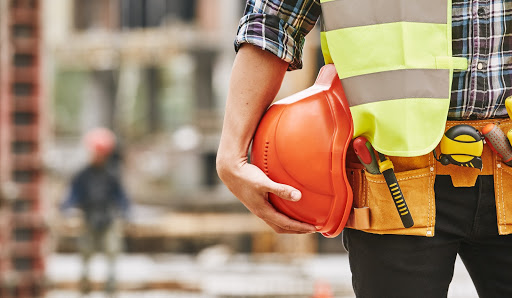 Our number one concern when it comes to embarking on a DIY project is the safety of those on the job site, working in the restaurant, or diners who visit after the project is complete. Our team at DESCCO has the proper safety training and years of experience working on restaurant construction job sites, that less experienced and cheaper contractors or DIY restaurant owners may not have.
Not only does one-inexperienced worker on the job site who may make safety mistakes pose a risk to their own safety, but they are also a hazard to the others working alongside them as well. Something that seems as minor as failing to use proper personal protective equipment, neglecting the maintenance of machinery, not communicating effectively with the team, or misusing tools, such as a ladder, can have disastrous results. Safety is our main priority at DESCCO and we ensure that every one of our employees has the proper training they need to create a safe workspace.
While that explains how a DIY project poses a safety risk to the people working in the restaurant and on the job site, you may be asking yourself how the diners who visit after the project is complete are at risk. When undergoing a large renovation project that involves structural changes, gas, electrical, or plumbing work, or the installation of new fixtures, if not done properly and to code, many accidents could occur. Faulty electrical work poses a fire hazard, structural changes that are not inspected first or completed by professionals could result in a collapse, and fixtures not hung correctly could fall, injuring anyone underneath. Hire an expert restaurant construction company to make sure the job is done right.
Invest in Your Business
Are you just embarking on your dreams of opening a restaurant and you're looking for a new build project or do you have a space that needs to be adapted with a restaurant fit-out? Whatever scope of project you're looking for, whether you're renovating your restaurant to be more efficient and modern or you're in need of a completely new space, DESCCO has decades of experience in building restaurants in Reading, PA and the surrounding areas.
When you hire DESCCO for your project, you're not just hiring construction experts. We will provide you with a team of restaurant designers, architects, engineers, builders, suppliers, trade contractors, and more. Our restaurant construction services include:
Fast-Tracked and Phased Construction
Restaurant Design Build or Design Assist
Conceptual Budgets
Kitchen & Exhaust System Design and Fabrication
Local Government & Health Department Approvals
Construction Contract Documents
Purchasing and Contract Negotiations
Scheduling and Construction Management
Project Management / Field Supervision
Utility Service Coordination
Construction Quality Control
Construction Safety Management
Restaurant Fit-Out
While a DIY restaurant construction project may appear to save you money in the beginning, it may only cost more in the long run when the work needs to be repaired by professionals. When you invest in your business and vision, you will see that the project will pay off.
Hire the Experts
DESCCO offers exceptional restaurant design and construction services near the Reading, PA area. Contact us today to get started!