The retail build out project for Stoltzfus Meats, Inc., was an interior alteration to an existing one-story structure. The build out required major demolition of walls, floors, ceilings, electrical, plumbing and fixtures to make way for the installation of the new 6,589 sq. ft. restaurant, kitchen, butcher area and retail meat store.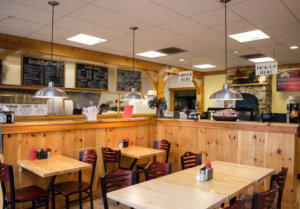 During construction, hand trenching was required in the existing concrete slab for installation of new plumbing and piping for drain lines. All rough carpentry and finish carpentry in the interior of the unit was completed to give the space a nature rustic appearance. Installation of board and batten siding to the exterior of the building was also completed.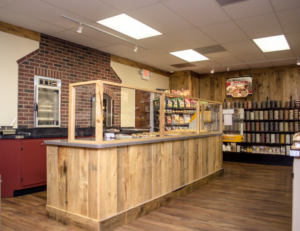 New concrete, masonry, insulation, drywall, doors, windows, electrical, plumbing, HVAC, painting, ceilings, and flooring was needed to complete this major retail build out project.
At a later date, DESCCO completed an expansion project for Stoltzfus Meats, Inc. The expansion provided 2,107 sq. ft. of additional space to the store. The additional space included more display cases, an improved check out area, additional restaurant seating, and a place for customers to view preparing and baking of products on site.