The Shaffer Family Chiropractic project was a complete commercial build-out that began with an empty shell with only four perimeter walls. The contract with Historic Properties Partners, LP, was awarded to DESCCO on December 12, 2022, and design and development began shortly after, on December 19.
DESCCO worked with Dr. Jordan Shaffer, the new tenant and owner of Shaffer Family Chiropractic, to design the space to fit his needs and preferences. Dr. Shaffer had a clear vision of his future office space, so it was critical to listen to his input with open ears throughout the construction process and apply DESCCO's experience and expertise to make the doctor's vision a reality.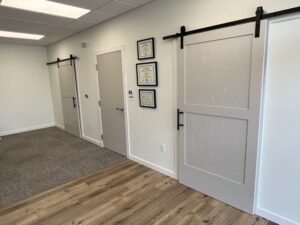 The space required underground piping, installation of a stone base, and a poured concrete floor. Plumbing, electrical, and HVAC systems were installed along with electric and water meters and bases.
The build-out of the office features two rolling barn doors; walls with a shiplap finish; and lead-lined drywall, which was installed in the x-ray room as a radiation shield.
Dr. Jordan was eager to open his doors to his patients once construction was complete. After the grand opening of his practice, Jordan stated that he has been enjoying his new office space and has seen many patients since the completion of the project.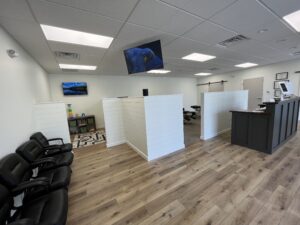 Pre-Construction Services:
Conceptual Plan, Budgetary Estimate,

and Project Estimate

Architectural, Mechanical, Electrical, Plumbing Design

Complete Permit Documents and Application for Permit

Project Schedule

Mobilization
Construction Services:
Trench Excavation and Concrete Slab

Metal Stud Interior Wall Framing

Mechanical, Electrical, and Plumbing Systems

Drywall, Insulation, and Suspended Ceiling Installation

Finish Carpentry and Cabinetry

Painting and Various Floor Coverings