Selecting the best construction company can be a difficult task and a crucial decision to make, especially for first-timers. People just don't know what to look for in a contractor. And the difference between quality and amateur craftsmanship is enormous. In construction, it is the line between perfection and disaster.
We, at DESCCO Design & Construction understand how someone might be hesitant when faced with selecting a construction contractor and we also understand the importance of choosing the right one. DESCCO believes in sharing all the important information with our customers to make things easier for you.
Here is what Janet Keshi said about the construction of the 2nd Street Bridge in Allentown, PA.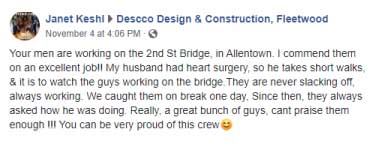 Your men are working on the 2nd St. Bridge, in Allentown. I commend them on an excellent job!! My husband had a heart surgery, so he takes short walks, & it is to watch the guys working on the bridge. They are never slacking off, always working. We caught them on break one day, Since the, they always asked how he was doing. Really, a great bunch of guys, cant praise them enough!!! You can be proud of this crew 🙂
Here are some key points that should be considered when hiring a construction company:
1. STUDY THE CONSTRUCTION CONTRACTORS AND MAKE A CHECKLIST
Before you start reading our tips on choosing the right construction contractors, it is highly recommended that you take a pen and notebook to write things down. Checklists are a lifesaver in the world of construction. There is so much information to process and it can easily get confusing. Our goal is to help make the process of choosing a good construction company as simple as possible.
Additionally, you should also do some research before you start looking around. After all, how can you recognize a good company from a bad one if you don't know anything about construction. A little bit of research will also help in clarifying the skills and types of contractors you will be needing for your specific project.
For example, if you are planning to create an office space from scratch, you might need contractors that are specialized in fit outs, specifically shell construction.
2. EXPERIENCE IN CONSTRUCTION IS VERY IMPORTANT
Recently, many have started to doubt the importance of experience. The truth is that the final results will depend on the quality and experience of your contractors. Companies that have existed for more than one decade have faced every type of situation.
This means that they evolved and are now capable of solving a variety of issues and can give adequate solutions and suggestions. You wouldn't want a leaking at the windows every time it rains, so don't settle for an amateur or beginner contractor for your next commercial construction project.
3. GET REFERRALS – THE MORE, THE BETTER
The best way to find the right construction company is to ask for referrals from people you know and trust. If someone you know had a good experience with a construction company on their project, you can have peace of mind that your project will also turn out well. If they had a bad experience, you should know that the company is probably not the best option for you.
Also, don't be afraid to consult with complete strangers. A previous customer of the company you are considering can be the best source of information whether you know them or not.
For example, if you are planning to renovate your office, talk to the owners or managers of other office spaces that had been renovated by the company you are considering and ask them specific questions to find out how the construction process went for them and if ultimately they were pleased with the work performed.
Proper communication is crucial for a successful construction projects and referrals are a great way to get more insight on the matter.
4. DO SOME RESEARCH AND READ ONLINE REVIEWS
If you don't have any acquaintances that can give referrals and advice, then you always have the internet. These days there isn't a company in the world that doesn't have an "online persona". Searching for local contractors on Google and even Facebook can be a great way to get the information needed to make an informed decision.
Good companies have tons of satisfied customers vouching for them online. Look for positive reviews and high ratings. Truly professional companies also have a modern website with all the needed information like contact buttons and blogs, so make sure to check for that as well.
5. THE BENEFITS OF SCHEDULING INTERVIEWS WITH MANY CONSTRUCTION CONTRACTORS
As you start your research, you may find that there are several construction contractors you would be willing to consider hiring for your project.
Interviewing the top candidates will help you determine who you will have a good repour with. Relationships are very important as you will be working very closely with the employees of the company you hire for the duration of your project. The in -person meeting will flush out those that you don't feel completely comfortable with and will help to solidify your decision.
Interviews are also a great way to assess whether a commercial construction company fits your budget, time frame, and construction plan. Apart from going through the formalities, you should also be asking questions relating to your budget, your deadline for project completing and other items relating to your plans.
Asking the important questions during your face-to-face interviews will tell you a great deal about the company's approach. After this, you should be in a much better position to make an informed decision.
6. CHOOSE A CONSTRUCTION COMPANY THAT FITS YOUR NEEDS
Construction is a broad field. That is why you must make sure that the company you hire fits your needs. This may be flushed out during the interview process. Some construction companies only specialize in a few areas. Some have a broader range of experience.
What is important is that you seek out a company that has experience in performing the type of work you are in need of. For example, adding a patio in a residential house doesn't require the same skill as remodeling a healthcare facility. Choosing a specialized construction company is especially important when you are planning a larger commercial construction project.
7. LOOK AT THE VARIETY OF SERVICES THE CONTRACTORS OFFER
When you find a company that fits your requirements, it is time to check the equipment and services they offer. The ideal contractors are those that are up to date with technological innovations and designs. You may be able to see this during the interview, or when you look at their previous projects. Additionally, some companies collaborate with architects and designers on the side.
Hiring a company that offers both design and construction will save you a great deal of time, effort and money. These collaborations are usually the ones with the highest success rates. Communication between architects and construction contractors is the key for accomplishing the best results.
8. WHAT ABOUT THEIR PREVIEOUS CONSTRUCTION PROJECTS
If you are truly dealing with professionals, they will gladly show you their previous work. As a potential customer, you have the full right to ask to visit an ongoing project. Having a sneak peek into their work routine will instantaneously tell you if they are the right contractors for you.
To have a glimpse of an ongoing project or to see previous ones, you just need to ask before or during the interview. Dedicated and experienced contractors will offer this on their own. Be prepared for a field trip, this is where you will learn a great deal about the company.
Conclusion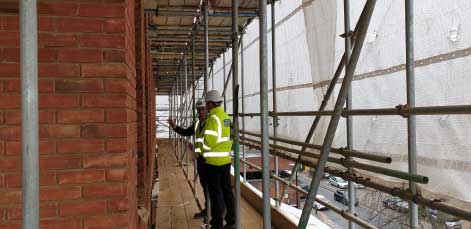 Remember to get rid of amateurs as soon as possible and focus on truly professional firms. The type of construction contractors you hire will surely determine the final outcome of your project. If you hire a responsive, dedicated, respected, and experienced company, things will run much smoother and according to plan.
Even though it might sound difficult, try to enjoy the entire process. Be open during the interviews and feel free to ask any kind of question that pops in your mind. After all, your satisfaction should be the company's top priority.
For more information on hiring the right construction company for your commercial project, contact DESCCO Design & Construction today!
---
How To Select The Best Construction Company For A Project? – By DESCCO