Fleetwood Park holds a special place in the hearts of many Fleetwood residents. During the height of the COVID-19 pandemic, the park's pedestrian bridge was destroyed by storms, and the original bandshell, built in 1986, was condemned due to risk of collapse. Fleetwood Borough spent several years securing funds to replace the bridge and bandshell and, thanks to the unwavering efforts of many, the replacement of both structures was completed in 2023 by DESCCO Design and Construction.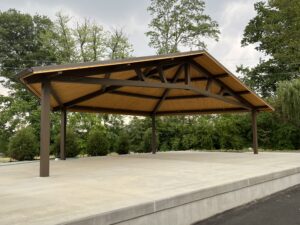 Whereas the original structures had a history that cannot be replicated, DESCCO built a new pedestrian bridge and bandshell that comply with ADA regulations and are designed to resist damage from the elements. In addition, the creek bed was tapered and large rocks were installed to prevent future flood damage to the park's structures. This means the Fleetwood community can utilize the new pedestrian bridge and bandshell for many years to come.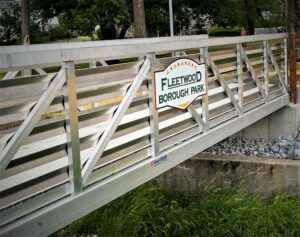 DESCCO was honored to attend the ribbon cutting for Fleetwood Park's new bridge and bandshell on May 11, 2023.
Pre-Construction Services:
Project Planning and Coordination
Construction Services:
Demolition of Preexisting Bridge and Bandshell

Install New Bandshell Foundation and Stage Concrete

Erect Bandshell Structure

Install Deep Bridge Foundations and Pedestrian Bridge

Landscape and Pave