The Family Center at the Brethren in Christ Church in Lancaster is a staple meeting place for the community
.
This project added a
full-size
gym with a balcony and a commercial kitchen to make it easier for the church to host large gatherings, plus multiple geo-thermal heating and cooling systems, an automatic sprinkler system, and complete fire alarm system.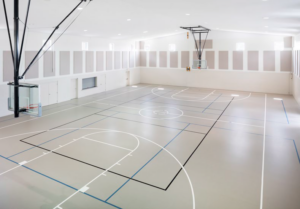 After working through the pre-construction process including designing, budgeting, scheduling, and coordinating the work and arranging for the proper permissions, we started on the exterior work for the project, clearing and grubbing the space and setting up sediment and erosion control. We built the addition with brick to match the existing structure so that the new construction blended seamlessly with the
old and
focused on finishing up the exterior details like setting up and lighting the parking lot, paving sidewalks and walkways, and landscaping before we turned our attention to refining the building's interior. We added all the details you need for a gymnasium and a full kitchen, like a basketball hoop and a commercial kitchen hood. 
When the finishing touches were all done, we were very pleased with the way these additions to the family center had turned out, and so was the Lancaster Brethren in Christ Church! Now they have the room and equipment they need to host even more events for the community over the years.