A church's bell tower is often the focal point of its character and history, so when it falls into disrepair, it's a sad thing. Luckily, when you have a local church construction company like DESCCO Design and Construction on hand for a restoration, that personality and legacy can be preserved for generations to come!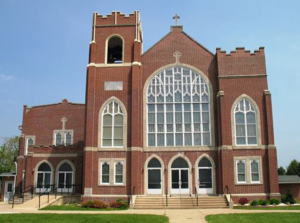 This is what we did for Salem Belleman's Church in Mohrsville, PA. We worked on various projects with this church, including interior and exterior repairs and a complete HVAC system overhaul, but the bell tower restoration was a particularly special project.
The state of the bell tower and the bell itself required the entire tower to be taken apart and reconstructed. The bell needed restoration as well, so we carefully removed it and had it worked on while we were busy rebuilding the tower. When it was all back together again, the effect of the sturdy new tower and bright bell was really something to see.
Other projects that we completed for this church included replacing deteriorated wooden window sills and frames, removing an old heating system to replace it with an underground propane tank system to power the furnace, and adding a new electrical system with increased capacity for better cooling. It all came together to make Salem Belleman's Church an even more beautiful and functional space, and we're glad to have been a part of the history of this building and its parish!