As Levan Machine and Truck Equipment outgrew their shop on Pricetown Road in Fleetwood, President Brian Levan began making plans for their brand-new production facility. The planning process spanned several years. DESCCO was able to help Mr. Levan realize his dream by constructing a new 8,000 square foot, steel frame production building, with 6 truck bays allowing Levans to increase the amount of vehicle up-fitting for their customers. Quicker turnaround times enables businesses, who rely on their fleet services, to get vehicles back to work faster. This project was vital to Levan's continued growth and led to adding employees to their workforce.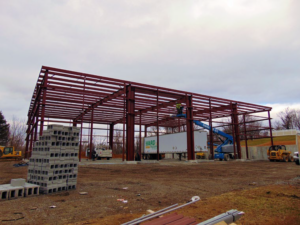 This new building was constructed on the very site where Brian Levan's grandfather, the founder of the company, started it all. An existing house and small shop were demolished to make room for the expansive new building that sits among the other shops and office buildings owned by Levan.
Roll up doors were installed on both sides of the building allowing larger trucks to pass through the truck bays, making driving, parking, and maneuvering the parking lot much less difficult. This innovative design feature contributes to Levans effective workflow.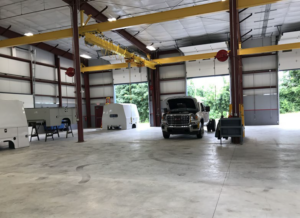 Levan decided on installing a heated concrete slab to conserve energy and provide an efficient heat source for the building. This removed the need for a conventional furnace. LED lighting was installed providing the most energy efficient option for lighting available.