At DESCCO Design and Construction, we're proud to call Berks County, PA our home, and when we get a chance to improve our community, we're happy to be involved! Recently, Berks County officials decided that there was a need to create a new South Campus in Mohnton, allowing for additional services to be provided to that area of the county. Berks County purchased a building previously occupied by GAI-tronics, and the Berks County Development Nonprofit Corporation renovated part of the building for the new home of the Berks County Magisterial District Court.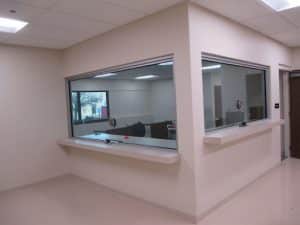 DESCCO provided construction services for this project, with Tim Heffner, Vice President and Project Manager for DESCCO, overseeing the process. We renovated 3,604 square feet of space to create offices, rest rooms, break room, reception area, and a courtroom. Some of the site services provided included additional parking spaces, curbs, and sidewalks. We're very pleased with the outcome of this project. The DESCCO field crew helped to ensure that everything was completed in a timely manner, resulting in a professional space that's sure to serve the county well in the years to come.
Winning this competitive bid and the opportunity to make Berks County a better place, was very rewarding for us here at DESCCO, and we're happy to have such a good outcome to the project!