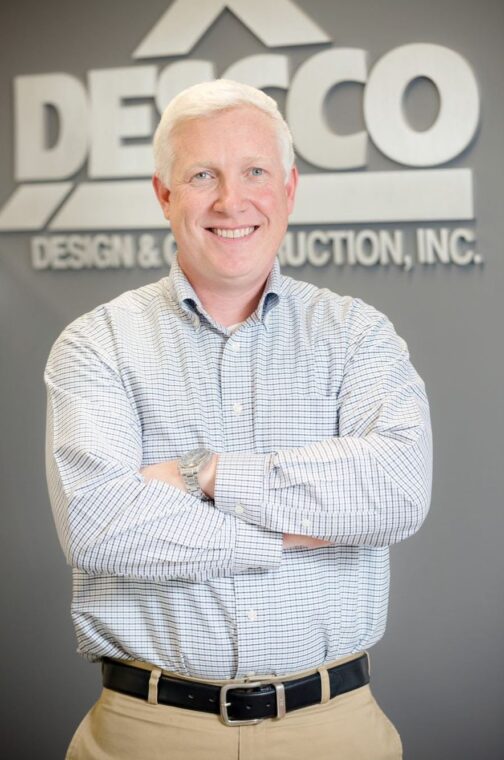 May 2021 marks 45 consecutive years of unmatched design and construction expertise in a wide variety of projects across the great state of Pennsylvania and the Mid-Atlantic Region as a whole.
DESCCO Design and Construction's 45th Anniversary is certainly a momentous occasion, and a remarkable achievement to be proud of. After all, compiling nearly half a century of exquisite building, remodeling, and renovation service and exceptional customer satisfaction is no easy feat.
To get a little more insight on what exactly goes into the creation and multi-decade sustainability of a trusted design and construction company, we sat down with current DESCCO Design and Construction president, Nicholas Stoltzfus, to discuss the impact that his family's business has had on so many other businesses and communities throughout the Greater Reading Area and beyond over the past 45 wonderful years.
Q: When Did You Start Working for the Family Business?
A: At 14 years old, I started working full time as a carpenter's helper during the summer. I worked in the field all the summers during high school and college, doing various work ranging from excavation, concrete construction, steel building erection, and wastewater treatment piping.
Q: How Have Your Roles Changed Over the Years?
A: After I graduated from college, I worked as a project manager with a large national construction firm and worked on regional projects along the east coast. I returned to the family business in 1999, starting as an estimator/ project manager and working on commercial buildings, bridges, and wastewater treatment plants. In 2005 after my father's death, I purchased the company from my family and continued to build it into the organization we are today.
Q: What's the Most Important Lesson You've Learned in Your Current Position?
A: Leadership is as much about learning as it is leading. Although it comes easier for some people, I don't believe that anyone is a natural-born leader. It takes hard work, training, mistakes, failures, and successes to shape a leader. I believe in servant leadership, putting others' needs in front of my own. Find the right people, give them the tools to do their job, then get out of the way; but stand alongside them and back them through all their successes and failures.
Q: What's Your Favorite Part of Your Job?
A: I like the variety of work that we do. It is fantastic to see something created out of nothing, knowing that what we build will remain for generations. I find it uniquely satisfying to be part of heavy equipment working, craftsmen constructing, and buildings emerging.
Q: How Have You Adapted the Business to Fill Modern Needs Since Taking Over?
A: Through the years that I have run the business, we have continued to evolve to adapt to world changes, different economies, new technologies, and improved business methods. The company's foundation remains the same; do what is right, do outstanding work, employ talented, experienced personnel, and treat customers, employees, and colleagues with respect and integrity. We are a family business and will remain that way.
Q: How Does DESCCO Design & Construction Stand-Out From Other Companies?
A: Other companies do what we do, but we achieve great things because of outstanding people. The tenure of our personnel speaks volumes about who we are as a company. Many individuals have spent their entire careers here; our average tenure is greater than 15 years.
Q: Looking Back at 45 Years, What Aspects of DESCCO Design & Construction Make You the Proudest?
A: I'm most proud of our people. I find great satisfaction in working together with them to push past obstacles and achieve what was thought to be unachievable. Through our construction work, I am proud of the legacies we are creating for generations to come. Our carpentry projects create great spaces for people to congregate. Our bridge work connects families. Our wastewater treatment work provides clean water, a fundamental right for everyone.
Q: How Do You See DESCCO Changing in the Next 45 Years?
A: This is a tricky question to answer. I will predict that we will still be relevant and robust. The foundation on which we are built will remain. Just as it has over the last 45 years, we will continue to adapt.
Q: Is There Anything Else You'd Like Your Clients and Employees to Know as You Celebrate 45 Years?
A: I want to thank all our wonderful customers and our outstanding personnel who have been an integral part of DESCCO's 45 years. I'm looking forward to the next 45 together!
Since 1976, DESCCO Design and Construction has been the top choice of business owners and design teams for new construction projects, additions and refurbishing or renovating spaces.
We work with you early in the planning stages to offer guidance on planning, design and execution of the project. As your contractor, we will take charge of coordinating the project from beginning to end, and we pride ourselves not only on quality work, but quality communication as well.
Whether working directly with you, your architect, or your engineer, we bring practical design expertise to the project. Our experienced team knows what looks good, but even more importantly, we know what will work best for the construction or renovation project you are building.
Contact us today to learn more about how we can help you get started on the construction project of your dreams as soon as possible!